Welcome
Welcome to the
Rocky Mountain Thunderbird Club!
---

RMTC needs your help!!
           A SPECIAL REQUEST FOR A SPECIAL PERSON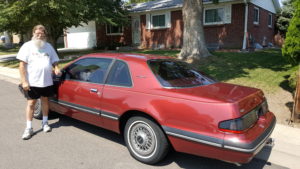 Our President, Don Reinke II is a founding member of the Rocky Mountain Thunderbird Club in 1980.  Don has been the President of the RMTC since 2002. Over the years Don has not only devoted his time to the club itself, but also to its' members. Don is frequently lending aid regarding vehicles that are broken down or to members needing assistance.  He is willing and quick to lend a helping hand.
Unfortunately, it is now Don who is needing assistance for a serious health issue. Don has suffered complications from many years of having Diabetes.  Last year he suffered kidney failure and was put on kidney dialysis.  Don must go to dialysis now three days a week for the rest of his life until a kidney is found.
Studies show almost 60% of people needing transplants don't ask ONE person to consider donating. 
So, we are asking for Don. 
If you are a person in reasonably good health, and would consider giving the gift of life to another, please contact one of the people listed below. We understand this is not a decision or gesture that is taken lightly.  There is a lot of miss understanding and incorrect information regarding kidney transplants/donations. You do not need to live in the same location as Don and age is not limited as long as you are relatively healthy.
If you feel you would like more information regarding this life changing donation and how to help please contact one of these individuals:
Living Donor Coordinator             Kathryn O'Dea
Living Donor Advocate              Marita Dougherty
Presbyterian / St. Luke's Denver Colorado
1-800-758-1005 / 720-754-2155
*All information was published with the permission of Don Reinke II .
---
 The Rocky Mountain Thunderbird Club is the Colorado Chapter of the Vintage Thunderbird Club International. Founded in 1980, we are dedicated to the enjoyment, restoration, and preservation of the Thunderbird automobile.
RMTC helps celebrate our veterans !!!!
19 Thunderbirds, 31 members and 4 guests